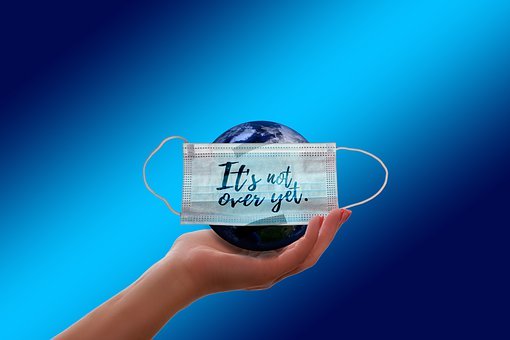 Where possible have separate entrance and exits to your building so that traffic flows more easily, you minimize person-to-person contact and you may speed up getting people in and out of the facility. As we only have one entrance pupils must remain outside until their class teacher brings the previous class out and admits them into the class.
Whenever possible, parents and other visitors should not enter the building. Request that parents drop off their children at the door and do not open internal areas for waiting parents or family unless you can ensure appropriate social distancing space. Only parents of under fours will be allowed to be in the studio.
Students should be directed not to arrive early and to wait outside until instructions have been given that it is safe to enter.
Students to be collected in a timeous manner after class as it is not safe to wait outside on their own.
There should be no parent observation of classes.
Establish clear pathways through the building. Mark pathways with arrows if needed.
Protective Measures
Review all signage to ease navigation and finding places.
Reduce the number of shared facilities where possible.
Keep dressing rooms and communal showers closed.
In your toilets, make sure that you can maintain social distance and sanitization.
All students should arrive and leave dressed and ready for class in their dance clothes.
Any tasks that can be done at home should be done at home (hair, makeup, dressing, etc.)
Make sure the dancers are not wearing ballet shoes outside of the studio. Outdoor shoes should be taken off and left outside of the studio. Ballet shoes should be put on immediately before entering the studio and removed immediately after class.
If you use street shoes as part of your class, ideally, you should ask your students to have a second pair that they did not arrive in, reserved to change into for dancing. We will have a shoe rack outside the studio for your shoes.
Clearly identify (mark the floor if you can) where students place their belongings so that they do not touch each other's belongings. It could be a separate area from the studio, or you could create a "home base" at the barre for each student, during class.
Students should not wait in the classroom/studio if it is not their class.
Students should be advised to bring only the essential items with them.
Individual towels should be clearly marked.
Do not share props for dances, please ask each dancer to provide their own.
If personal items are not removed at the end of the class, they should be disposed of immediately. Remind students at the end of each lesson and / put signage up to ensure it is clearly communicated, to avoid complaints.
Ensure availability of hand soap at sinks and hand sanitizer in studios and other areas. Students should also carry their own hand sanitizer.
Ensure the sanitizer you choose is effective against the virus and is suitable for use by children. Be aware of any allergen advice/contraindications. Remember that anti-bacterial is not anti-viral, so this will not replace the efficacy of a proper hand wash using soap and water.
No eating or food or drinks other than water on site.
Mark your floors and barres so that those entering your studio understand how to space themselves.
Barres should be clearly marked with tape to allow dancers at least the required separation, allowing for extra room near walls.
For center practice, mark the floor to allow at least a 2-meter square per person (including teacher, accompanists, and others who may be required to be in a room). You may like to use tape to assist with this or consider rubber floor circles.
If you are alternating groups you must also have safe areas marked for dancers to wait at the side of the room.
Ensure studios have appropriate cleaning products to hand but secure from young students.
Staff Safety and Rights
Where class payments are required, only contactless or direct debit payments should be accepted.
Make sure you have safe office practices for those who may be working in your offices.
In reality, many younger students will not be able to follow social distancing guidelines. Think very seriously about the age ranges that you can successfully work with under the new reality. Always put safety first.
NHS hand hygiene information Wet, soap, wash, rinse, dry poster Catch it, bin it, kill it poster
Safe coughing and sneezing etiquette should be known.
Teaching in the new reality
The classes that you deliver connect to people and are greatly valued by your students. Whilst we need to adapt to teach within the new socially distanced reality, we also need to remind ourselves that the studio is a special space that our students come to for a distinct experience and we should safeguard this experience as much as possible.
Set achievable artistic goals and try not to get distracted with the health and safety guidelines.
If you cannot accommodate a full class in the studio you may opt for others in the class to participate via live stream video and alternate who actively participants from class to class. If so, before broadcasting, you will need to ensure you have the media permissions forms completed by students in attendance.
Be clear about how you wish to work with your students, in regards to how you will communicate, entering the room, groupings, interactions with each other, what they need to do if they need to be excused during the class, etc.
Maintaining Spacing Teachers should maintain the mandated distance from students at all times.
Even though working in the studio you may find that you have to adjust your classes so that there are fewer exercises that travel in all directions.
All exercises that require holding hands should be done without holding hands. Partnerwork should be separated as required by any distancing regulations.
There are dances within each grade that do not require props.
For the stationary center, work make sure your students can maintain safe minimum distancing in all directions. If they are engaging in very aerobic activity, consider increasing the spacing by 1 meter.
When traveling air droplets become suspended if you are traveling right behind someone you are in the slipstream where these droplets are suspended. Less contamination can occur if working side by side with someone, rather than behind them. When traveling you will need to increase distancing more, maintaining a 4-5 meters' separation; so consider the practicalities of your space, when planning classes.
Make sure students know where to go to after smaller group activities so they do not form in groups.
After Class allow additional time at the end of class to wrap things up and make sure that dancers have everything they brought with them.
Timetables
Timetables will need adjustments to allow for new social distancing measures. Things to consider as you create your timetable are:
Know how many students can you accommodate, and make sure you keep your cohorts together in the same groupings.
Allot time to enter your building and for any pre entry screening to take place.
Plan your class to allow more time for students to demonstrate exercises in smaller groups and to change over between them, as may be required by distancing requirements.
Consider and adapt your class plans to factor in the mental and physical impact of lockdown, on your students (e.g. allow more time for explanations and instructions, and to slowly rebuild technique).
Allow time for entering and exiting your classes and for making sure that one class is out of the space before the next can be let in.
Allow time to clean the studio between classes.
If you have students who attend multiple times a week, or more than on class a day, consider how many class places you will have available and the benefits of keeping cohorts together to diminish the chance of cross-infection.
Teacher and staff considerations
Give all teachers and staff a chance to feedback on the plans and to ask questions, and to offer suggestions
Staff should undertake training to ensure cleaning, class participation and management and record keeping protocols are in place at all times.
Health management, Hygiene and Cleaning
Until there is reliable and regular testing, treat yourself and anyone you meet like an asymptomatic carrier. Assume that you are an asymptomatic carrier and could therefore infect others, just as others could be asymptomatic carriers and could infect you and your family. This thinking is not to make you paranoid but is a perspective to use when reviewing each action in your workday and figuring how to decrease the risk of infecting each other.
It is the obligation of teachers to develop a CO VID Health Plan that is clearly written and available to all. As a starting point the items to include would be:
Screening measures before students enter.
You may create a health checklist document to be completed by each student and handed in when they arrive or ask the questions as they arrive or consider using a touchless thermometer to take and record temperatures when people enter your facility.
Ensure coughs and sneezes are covered by a tissue or a flexed elbow; tissues should be disposed of in a closed bin and hands sanitized following sneezing/coughing.
Encourage people to speak up if a student or faculty member is feeling unwell.
Keep a record of all teachers, students and staff in the building for the purposes of identifying close contact with infected persons in the event of an outbreak of COVID-19.
Regular hand washing is still highly recommended
Every hour and/or between classes. Identify handwashing facilities and alert everyone to their location and encourage their regular use.
Hand sanitizer should be used pre and post-class for all participants including teachers.
Have hand sanitizers available on entering the rooms, in other communal areas, and for use after using high touch surfaces.
In bathrooms ensure availability of hand soap and paper towels and a touch-free bin.
Cleaning Procedures
Establish a policy that encourages everyone to participate in cleaning studios between classes and at the end or beginning of each day.
Wipe down the barre and door handles before and after each use.
All items left in a studio after a class should be disposed of immediately. There should be no lost and found.
Empty bins that contain used tissues from that class, using disposable gloves, into a central lidded bin that can be cleared out at the end of the day.
Encourage staff to regularly clean their own personal equipment including sunglasses, mobile phones, iPads and computers, and to wash their hands.
Consider keeping a damp mop supplied with cleaning liquid, or a steam cleaner, to sanitize floors after a class that requires dancers to be on the floor or where students have sat or waited.
Wash hard surfaces with warm, soapy water using a disposable cloth. Your usual household cleaners can then be used if required. Cloths should be disposed of in refuse bags in lidded bins.
Are masks required, what are the benefits and how to manage their use?
Requirements will vary by territory. If not required, we leave it to the teacher and student to make this choice. The following are some points to bear in mind:
During exercise and public speaking, potentially COVID-19 carrying droplets can be shared. Wearing a moisture-wicking face covering may help cut down on droplets being spread to others. This is to prevent distribution to others, not to protect the wearer. Surgical or N95 masks can be challenging to talk and breathe through and should be reserved for health professionals.
Masks should fit snugly over the nose and mouth, not be touched once placed on the face, and washed or discarded in bins immediately after each use.
Working in a mask can be uncomfortable and makes breathing harder.
As a teacher, you have to work harder to project through the mask when speaking and breathing.
Once you put a mask on DO NOT touch or move it as virus particles can live on the outside areas of a mask.
A face mask that is saturated in sweat is not going to do its job.
If you require masks (or your country law does) make it part of your T&Cs and say they can't come in without one. Your students should consider a mask part of their uniform, like their shoes, and provide their own. If they forget their mask a teacher can decide to have a few disposable masks to give away, or they can turn away the student.
What to do if you have a suspected COVID-19 case
Immediately cease activity and isolate the person until they can be taken home where they should self-isolate.
Inform others who may have been in contact that they may have been exposed to COVID-19.
Notify local authorities if your jurisdiction so requires.
All students, their teacher, class assistant and accompanist who were in a class with anyone that may be infected must self-isolate and not return to class for the appropriate number of days